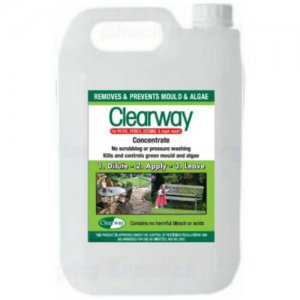 Clearway 5 Ltr Concentrate£46.20
Ideal size for Domestic or professional use
Clearway for Paths, Patios & Decking.
Concentrated Clearway for treating paths, patios, decking and all outdoor surfaces. Dilute with water in a ratio 1:9, 1 litre of Clearway concentrate with 9 litres of cold water. (Each 5 L container should be mixed with 45 litres of water) and sprayed directly onto the surface to be treated.
Environmentally friendlier and safe for use around pets, plants and children.
Diluted Clearway treats up to 10 sq m per litre (5 Litre concentrate pack will cover up to 500 sq meters).
Clearway not only removes unsightly and slippy algae it prevents it coming back for up to 12 months. Can be applied directly to the surface and does not require any pre-cleaning. Results can take up to 4 days depending on outside temperature and surface condition. If the surface is heavily soiled with dirt wash before application.
In Stock – Dispatched within 3 days
Customers from Scottish Highland & Islands, Southern & Northern Ireland IOW & IOM Customers please ring or email us before placing your order – 01606 330252